HP Newsroom
College of Tourism & Hotel Management (COTHM) Pakistan & Dubai arranged a webinar on "Top Five Expectations of Hospitality Employers" today (Thursday). Corporate Director-HR, Central Hotels-UAE, Zamir Abbasi talked to the participants of the webinar online while Director, International Development-COTHM, Babar Sheikh moderated the event.
All the students in the COTHM's nationwide network attended the webinar live from their classrooms under the supervision of their instructors.
Addressing the students on the expectations of hospitality employers, Zamir Abbasi said that work competence, alignment with the culture of the organization, multitasking personality, seriousness towards career, and digital friendliness are the factors which an employer considers the most while hiring an employee.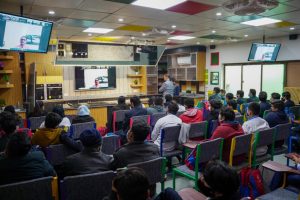 He also said that COVID-19 has changed the working scenario in the whole world and employers now want smart work in their organizations.
A question-answer session was also held in which students put up some serious questions to further clarify their concepts about the topic of the webinar.
More about Chocolate Academy's Cake Decoration & Fondant Art course ends in celebrations
Babar Sheikh, while concluding the session, said that the webinar was arranged to minimize the gap between the performance of the employees and the expectations of the employers.