COTHM Hosts Convocation Ceremony in Islamabad;
On February 16th, 2023, the College of Tourism and Hotel Management (COTHM) held its annual convocation ceremony for its Islamabad campus at Marriott Hotel. The ceremony was attended by distinguished guests, including notable figures from the hospitality industry and parents of the graduating students.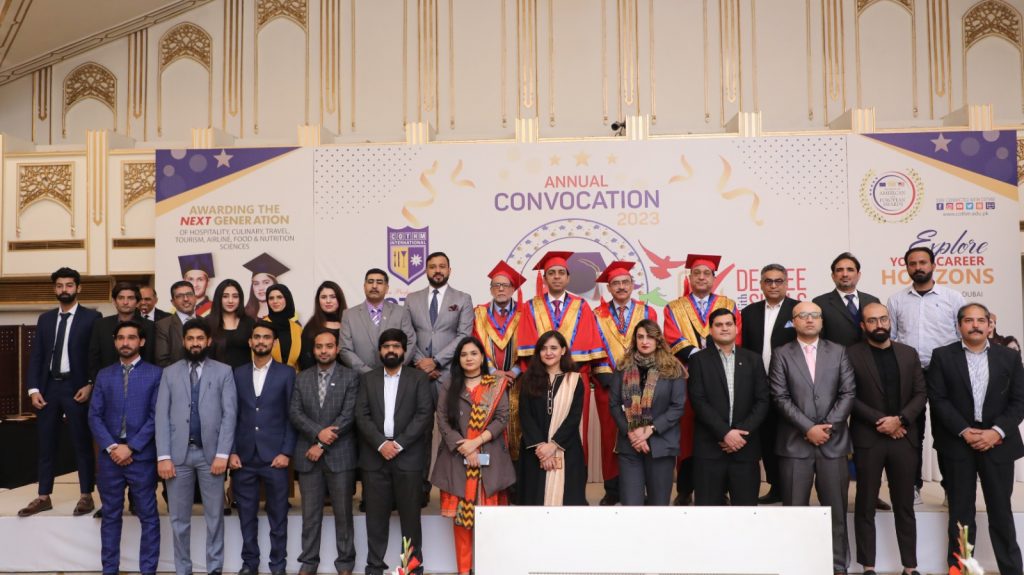 The event began with the procession of the academic staff, followed by the arrival of the chief guest Ms. Shaza Fatima Khawaja, Advisor on Youth Affairs. Among the guest of honor include, Mr. Aun Chaudhry, Advisor on Tourism and Sports, H.E Adam Tugio – Ambassador Indonesian Embassy, H.E Chakkrid Krachiwong – Ambassador Royal Thai Embassy, Mr. Rana Aftab-ur-Rehman, Managing Director – PTDC, Mr. Saqib Rafiq, President – Rawalpindi Chamber of Commerce, and Mr. Hanif Akhtar, HOO, Islamabad Campus. 
The ceremony started with Talawat Quran Pak and was then presided over by COTHM's Chairman, Mr. Ahmad Shafiq, who gave the welcoming address and congratulated the graduates on their achievements. He further added the marvelous achievements of COTHM during the past few years. He lauded the diligence of COTHM and its team did to raise the count of campuses all across Pakistan and Dubai. He added that there is a great vacuum to fill in the tourism and hospitality industry in Pakistan. And these amazing lads going to be the pioneers of exciting dimensions in the field of Hotel Management and the travel industry. 
During the commemoration, a total of 150 students received their degrees, diplomas, and certificates in various programs, including culinary arts, hotel management, and travel and tourism management. The top-performing students were awarded medals and shields for their outstanding academic performance.
In his keynote address, Ms. Shaza Fatima Khawaja commended COTHM for its contribution to the hospitality industry and encouraged the graduates to use their skills and knowledge to make a positive impact in the field. He also shared his own experiences and insights with the students and wished them the best of luck in their future endeavors.
The convocation concluded with the national anthem and a group photograph of the graduating students and academic staff. The event was a momentous occasion for COTHM and its graduates, marking the culmination of years of hard work and dedication.
To Witness the live ceremony click on the link below;